SAY HELLO TO THE NEW UR16e!

Introducing the new Universal Robots UR16e, a rugged and reliable
robotic arm built for high payload applications. Built to do more,
it's ideal for heavy-duty machine tending and material handling.
Let the UR16e do the heavy lifting for your business. The Universal Robots UR16e opens up new applications possibilities with industry-leading 16 kg (35.3 lb) payload capacity. Using the same easy-to-use programming interface of the award-winning e-series family, the new cobot delivers superior speed, reliability and safety to relieve your workforce of handling heavy tools and products. Automate labor-intensive applications like palletizing and packaging, screw and nut driving, machine tending and material handling of heavier loads while increasing your factory throughput and efficiency with the UR16e. LEARN MORE…
DOWNLOAD THE NEW E-SERIES BROCHURE
---
Heavy Payload.
The UR-16e is a 6-axis robot arm system with a working radius of 900 mm / 35.4 in, and a payload of 16 kg / 35.3 lbs. With user friendly software, the cobot can be easily and rapidly programmed to perform new tasks. Weighing only 33.1 kg / 73 lbs, the UR-16e can be quickly moved around in production areas and used in many different applications.
Reach: 900 mm (35.4 in)

Payload: 16 kg (35.3 lbs)

Weight (incl. cable): 33.1 kg (73 lbs)

Axis: 6 axis
---
The UR e-Series Collaborative Robots
THE UR3e
The Universal Robots UR3e is an ultra-lightweight, compact collaborative industrial robot, ideal for table-top applications. Its small footprint makes it ideal to be built directly inside machinery or in other tight workspaces. This cobot weighs only 24.3 lbs (11 kg), but has a payload of 6.6 lbs (3 kg). Its ±360-degree rotation on all wrist joints, and infinite rotation on the end joint, makes it well-suited for light assembly and screwdriving applications. Download UR3e Datasheet
THE UR5e
The Universal Robots UR5e is a lightweight industrial collaborative robot built for medium-duty applications (up to 5 kg). This general purpose robot was built with versatility and adaptability in mind. The UR5e is designed for seamless integration into a wide range of applications. Download UR5e Datasheet
THE UR10e
The Universal Robots UR10e is an extremely versatile collaborative industrial robot arm with its high payload (10kg) and long reach capability. Its 1300mm reach spans wide workspaces without compromising precision or payload performance. UR10e addresses a wide range of applications in machine tending, palletizing, and packaging. Download UR10e Datasheet
THE UR16e
The Universal Robots UR16e delivers an impressive 16kg (35.3 lbs.) of payload within a small footprint, and is ideal for use in heavy machine tending, material handling, packaging, and screw and nut driving applications. This powerhouse robot allows for heavier end of arm tooling and multi-part handling, and is especially useful for achieving shorter cycle times. Download UR16e Datasheet
---
Automate almost anything
When we say the UR robot can automate virtually anything we mean virtually anything – from assembly to painting, from screw driving to labeling, from injection molding to welding and from packaging to polishing.
Application: Plastics & Polymers Injection Molding
With materials requiring different processing and temperature ranges, flexibility is crucial on the plastic and polymers product line. The highly agile e-Series can be used across all areas of plastics and polymer production to meet changing demands, extending production capabilities while reducing employee exposure to noxious gases off during production.
---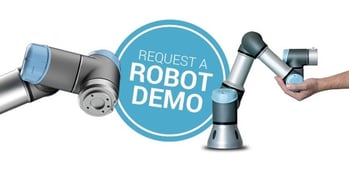 Learn How Cobots Can Benefit Your Business
Fill out the form to request a demo or get more info: