Introducing the new e-Series from Universal Robots
Get an edge over your competition with the e-Series. Built with the future in mind, the e-Series is designed to grow with your business, taking on new tasks and finding new uses to help you stay ahead of the competition. Universal Robots makes robotic automation possible for small and medium businesses, small batch production runs and other setups where traditional solutions may be too expensive. Download the e-Series Brochure
The new e-Series collaborative robots offer:
Faster development for a wider variety of applications.
Redesigned control panel and new programming and software for easier deployment.
A new built-in tool force/torque sensor with greater precision and sensitivity.
17 safety functions including customizable stopping time and distance.
Significantly quieter operation with a 10dB reduction in noise.
The UR e-Series Collaborative Robots
THE UR10e
With the ability to automate tasks up to 10kgs with no compromise on precision, the UR10e is the Universal Robots' family's most powerful robot. A reach radius of 1300mm also enables it to carry out tasks like packaging and palletizing in facilities where there is a larger distance between different operating areas. Download UR10e Datasheet
THE UR5e
The medium-sized member of the Universal Robots family is ideal for automating low-weight processing tasks with its 5kgs payload and 850mm reach radius. Easy to program and fast to set up, the UR5e strikes the perfect balance between size and power. Download UR5e Datasheet
THE UR3e
Small but powerful, the UR3e has a payload of 3kgs and reach radius of 500mm. With 360 degree rotation on all wrist joints and infinite rotation on the end joint, this table- top cobot handles high precision tasks and light assembly tasks with ease. Download UR3e Datasheet
---
UR collaborative robots offer game-changing benefits for your business.
---
Automate almost anything
When we say the UR robot can automate virtually anything we mean virtually anything – from assembly to painting, from screw driving to labeling, from injection molding to welding and from packaging to polishing.
Application: Plastics & Polymers Injection Molding
With materials requiring different processing and temperature ranges, flexibility is crucial on the plastic and polymers product line. The highly agile e-Series can be used across all areas of plastics and polymer production to meet changing demands, extending production capabilities while reducing employee exposure to noxious gases off during production.
---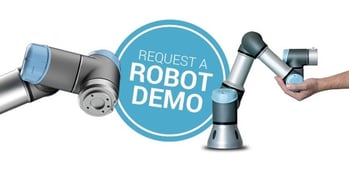 Learn How Cobots Can Benefit Your Business
Fill out the form to request a demo or get more info: